Model/Actress on the Go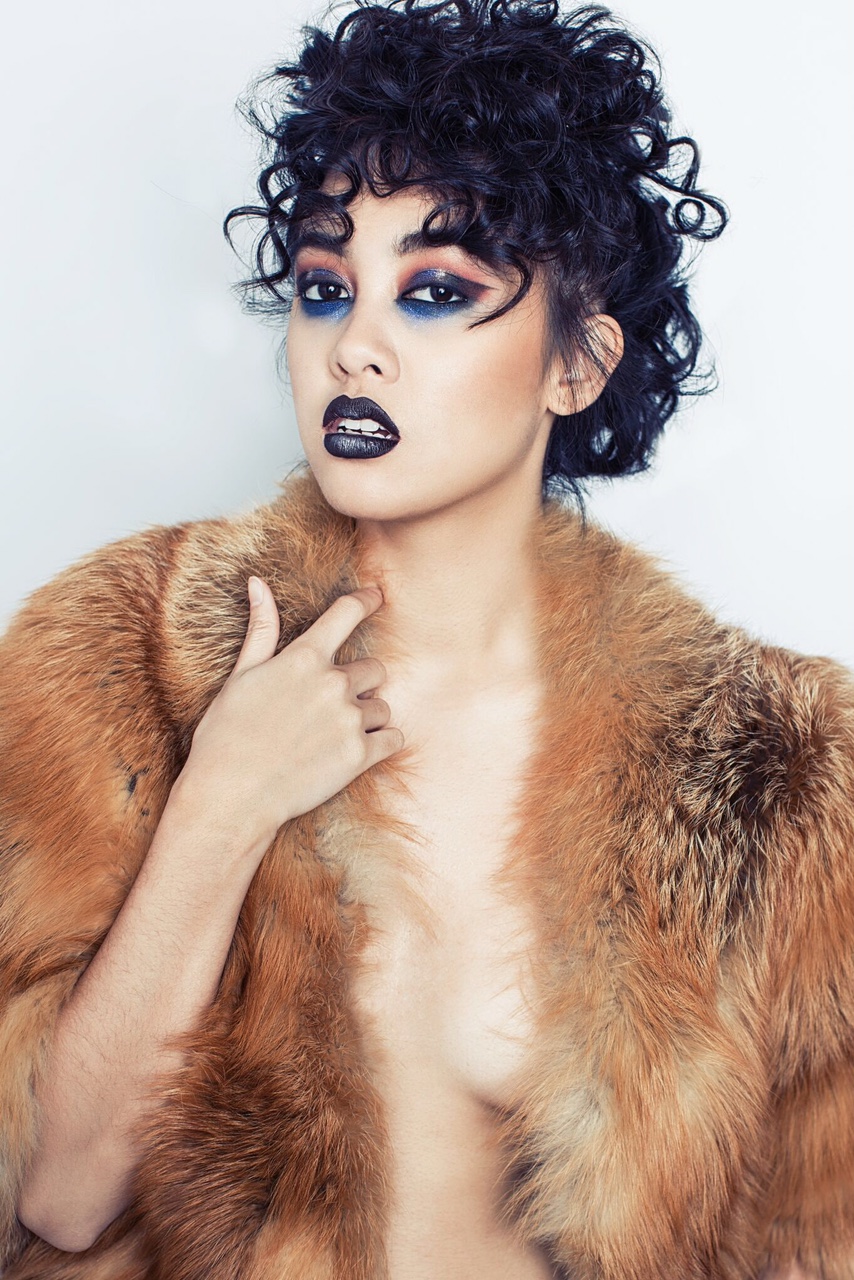 Model/Actress On The Go:
Nicole Bonifacio Dishes On Her Career, Family, and Closet
Nicole Bonifacio doesn't make it feel like we just met. We're talking over a video call, and the 24-year-old model/actress sits on her bed at her family's home in Hercules, CA, where she's taking a little break to visit family and get some R&R.
It's easy to see how Nicole has made a name for herself in both modeling and acting; she's not shy about being interviewed and she exudes energy and a laid-back confidence right off the bat. I don't get a chance to start asking Nicole questions immediately--instead, she starts asking me about myself. Before you know it, we've spent a good five minutes or so in conversation and I find I have to steer the topic over to Nicole.
Today is a day off for her, but as many of us in the freelance biz know, a "day off" isn't really a day off. This is especially the case for Nicole, who's been city hopping for her gigs (including a campaign for Hollister and a scene in Episode 4, Season 8 of Shameless) all summer and hasn't spent much time in New York, where she's lived these past two years.
When she's home, Nicole describes that her days off involve babysitting her niece and nephew, catching up with her friends and family, getting wings (half off on Tuesdays), and of course, searching for new jobs. And when she's working? Nicole says, "Every day is different. There was this one time I had seven or eight auditions in a day for Fashion Week in February...In New York, it's a lot easier to get around because of the subway. I'm always running from a photo shoot to a casting and leaving sets in the middle to make an audition on the other side of Manhattan."
Originally from Hercules, Nicole took the leap to move to New York to pursue modeling after getting a feel for it through a runway course at the City College of San Francisco, where the head of the fashion department, Diane Green, told Nicole that she should pursue modeling after seeing Nicole walk for one of the school's runway shows. From there, Nicole continued with her studies at the Fashion Institute of Design and Merchandising and spent time taking acting classes through Undiscovered Talent and using Model Mayhem to score her first modeling bookings and gain professional experience.
Nicole explains that, "For me it's all about time management…I took like 17 units my first semester of college, I went to school like six days a week, I had two jobs, an internship, I keep busy. I love to work all the time. That's just how I grew up. Always put school first." And what do her parents think of all this? They aren't your traditional Filipino parents, Nicole says, "They wanted me and my two brothers to pursue whatever it was that we were passionate about. It didn't have to be the big-paying jobs, like a doctor or lawyer…They shaped me into who I am today." She adds that although modeling and acting are her focus now, in the future, she'd like go back to school for her bachelor's degree in an art-related field.
When I ask Nicole about her first shoot, which was booked through Model Mayhem, Nicole laughs and tells me that a lot of people are wary of using the site because there are a lot of "creepy photographers on it, but I trust people a lot, so I went right into it," and her mom, Araceli Bonifacio, insisted on coming to her first shoot with her. I even catch a brief glimpse of Nicole's mother when the conversation moves on to Nicole's family and her cultural and ethnic background.
The question that spurs Nicole to go find her mom is, as Nicole asks her mom upon locating her, "How come you didn't teach us any Tagalog?" To which her mom answers, "Because that's not our dialect, our dialect is Kapampangan." In a jumbled exchange, Nicole explains to me, "There's different languages in our community, it's not like one language…" over which Nicole's mom calls, "It's not too late, though!" as Nicole heads back to her room. "Yeah…I think I might just learn on my own," Nicole muses with a laugh as she settles back on her bed, adding that she'll be going to the Philippines in a few months.
It's both fun and insightful to see even a brief exchange between Nicole and her mom, because it's so relatable for many of us who have grown up in households that are a mix culturally, even in regard to when and where our families immigrated to the US from. Questions about how and why things of cultural significance, even language, weren't passed from parents to children don't necessarily have definitive answers, just like with Nicole's mom. We never quite got back to the initial question of "Why do you think your parents didn't teach you their first language?" after Nicole asked her mom about Tagalog.
When we get to the subject of Nicole's family and upbringing, she elaborates that her parents are from the Philippines and she grew up in a Filipino community. But, as Nicole tells, "My last name is Bonifacio and my mom always told me we're half Italian, and I was like, are you sure? I don't believe it." So about four or five years ago, Nicole decided to take a DNA test to see if there was any truth to her mom's theory. "We ended up not being Italian," she says, "But it would have been cool."
Even though Italian blood wasn't in the cards for Nicole and her family, Nicole did find out that they have a percentage of Polynesian, Indian, and Middle Eastern heritage in their genetic roots. When I ask Nicole if she considers herself a Hapa, she replies that she had thought the term meant you were part Asian and part White. I suppose we have a lot of work to do here at Hapa Mag...But that aside, it does bring up an interesting development in recent years: DNA testing and how it can alter people's perspectives on their own ethnic and racial identities. In Nicole's case, she says, "I'm definitely proud to be from those places," and includes her full ethnic background in her bio and model profiles.
At 5'5" with her mixed background, dark hair, and brown eyes, Nicole describes that she isn't your standard model and though there is some diversity in her field, it's still rare to see other models of API backgrounds at castings. If you're thinking that the norm is blue eyes, blond hair, and 5'9" figures, you're right.
Though this is a bit of a touchy subject, Nicole doesn't mind telling me that she does get rejected because of her height. Nicole adds that she faces rejection on a regular basis, but that it doesn't stop her from pursuing and achieving success, recounting with a laugh, "Recently, one lady said to me, 'Oh you can't model, you're not tall enough,' and I was like, 'Okay, keep saying that to me while I work on these shoots for Chris Brown and Hollister.'"
Speaking of Hollister, one of the most telling images of Nicole's ongoing success, is a photo from her Hollister Co. Gilly Hicks Comfort Campaign: there are three models in the shot, but only the middle model is facing forward, and I bet you can guess which model that is. It's refreshing to see a model of API roots featured dead center in one of their campaigns. But Nicole's portfolio and Instagram posts make it clear that she's not about to be pigeon holed either--her projects show a mix of grunge, edge, girl next door, runway, print, and film. She's got Kanye West's Yeezy Season 3, How To Be Single, and work with "Project Runway" designers on her resume to name a few.
Her motivation to continue working in both modeling and acting is, as she puts it, "Creativity. I've always been an artsy type of person ever since I was little and I just love creative expression and expressing myself in the arts--whether it's performing, a fashion show, photo shoots, runway, acting--anything in the arts. Being creative is basically who I am." When I ask if she eventually wants to get behind the lens, she tells me that she'd like to take up photography and styling again, and possibly creative directing further down the line.
Nicole describes her own style as "Sporty, edgy, chic, and not that trendy." When provided with the prompt "what's in your closet?" Nicole starts listing off clothes and laughs when she realizes that her wardrobe is mostly black and that the one piece she couldn't live without would have to be her black leather jacket. Hoodies, sweats, and crop tops are also in heavy rotation when she isn't working or going to castings. As for makeup, Nicole says she keeps it pretty light for auditions and if she's going out after a shoot, she'll keep her set makeup on because, as she says half jokingly, "I'm not going to waste this face!"
As we get close to the end of our video call, I ask Nicole if she prefers New York or L.A. She answers New York because it's easier to get around to her bookings and, "If I were to do seven auditions in a day in L.A., that would not happen." That being said, the West Coast is still home for her and, like many who leave California, Nicole still comes back to visit her family and get her In-N-Out and tea fix--you might run into her at Boba Loca if you time it right.
But by the time this article pops up on your screen, Nicole will be back in New York. What's she most excited about? Nicole says model castings for Fall Fashion Week are just around the corner and she shot a scene with Uma Thurman and Maggie Q for a feature film, The Brits Are Coming, which is pegged for a 2017 release…but that's all she's allowed to say.
What she is allowed to share with us is a little advice for those who want to become models and actors but don't necessarily fit the status quo. "Just do it," Nicole says without hesitation, "I know there's beauty standards and boundaries and people tell you no all the time, but it can be accomplished with hard work, perseverance, belief, and faith in yourself. Whatever you speak into existence, it will happen. I believe that." Let's make sure to emphasize the "hard work" part of that statement, because not only did Nicole spend time honing her craft before making the move to New York, she recounts that the second she got to there, she "hit the ground running." And there's no indication she'll stop any time soon either.
For more from Nicole, check out her Instagram @nikkibon_ and Twitter @Nikkibon_.
Photo Credit: Top - Photographer Robin Hagy, Hair & Makeup Ernesto Robledo / Middle - Photographer Nicole Sepulveda, Hair & Makeup Kristina Piccardo, Stylist Richard Hallmarq / All Photos - Courtesy of Nicole Bonifacio
Naomi Takata Shepherd owns a small business, writes, designs, and directs film projects while working as a substitute teacher in the Bay Area. Her business, 6 Degrees of Hapa, is Naomi's way of contributing to the diverse and ever-changing Hapa community. To see more of Naomi's work, check out @6degreesofhapa and her portfolio.