Men's Skincare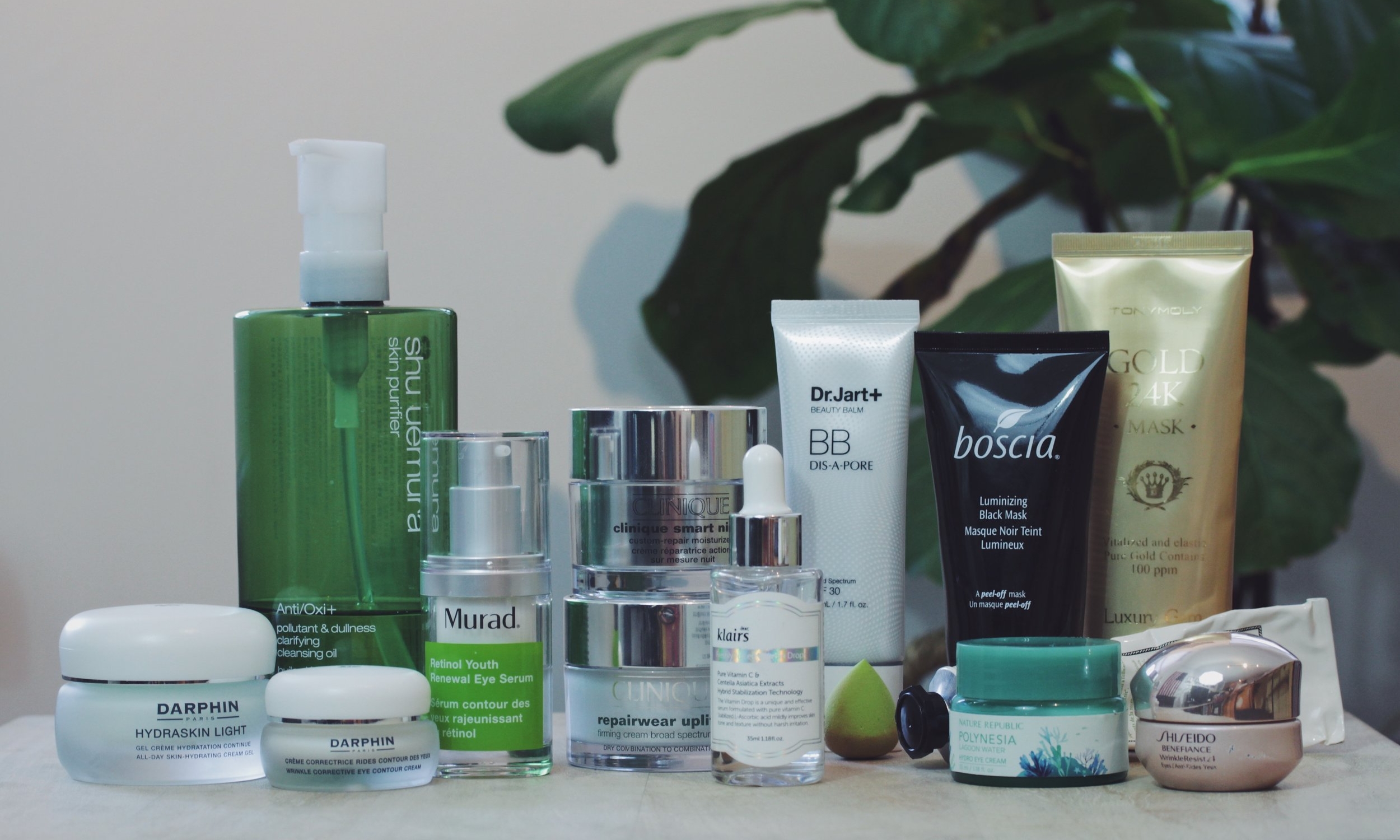 Here at Hapa Mag we are taking a look at men's skincare by having writers Sam and Autumn team up.
Our very own esthetician (Autumn) will give her input on each product in the routine of an everyday Hapa (Sam) to help us all better understand the complex world of skincare.
Sam: For years I've been using the Shu Uemura oil cleanser, and I prefer it to other face washes. You apply the oil to your face first, add some water to emulsify, and then wash it off. I really feel like I get a good cleanse from the oil.
Autumn: I love that Sam uses an oil cleanser! Oil can be intimidating to work with - notably for people who have suffered from breakouts and/or through the matte obsessed 90's. Oil cleansers work by binding to dirt and grime that can then be gently washed away without stripping the skin of its natural balance. This line has several oil cleansers to choose from but I especially approve of Sam's choice - the Anti-Oxi + Skin Refining as its concentration on antioxidant delivery is particularly key in combating free radical damage from city living. This product is best for even tempered skin that can sometimes become dry/dehydrated.
Sam: More recently I've been using a vitamin C serum or emulsion under my moisturizer, both morning and night. It is especially nice during the winter, when my skin tends to be more dry.
Autumn: I consider serums a MUST HAVE product to elevate any basic routine and to enhance whatever results one is after. They travel further into the skin than a moisturizer and provide a direct treatment to the dermis layer of the skin - where all the good stuff happens. Sam's choice to focus on multifunctional Vitamin C is wonderful for protecting and invigorating his city skin. It adds a deeper layer of defense against oxygen stealing free radicals as well as UVA and UVB rays and encourages more collagen and elastin production which will keep his face in the same place for all time. As a general rule, I like to rotate through serums seasonally so that I change focus as needed and deliver a variety of nutrition which keeps skin cells perky and active.
Day and Night Moisturizer
Sam: I am not too picky about my moisturizer. As long as it is meant for the face, I am pretty OK with it. During the day I like to wear a moisturizer with SPF, and at night I like a little thicker anti-aging moisturizer
Autumn: Sam is lucky that he doesn't feel the need to be picky about his moisturizer or rather, that he's found what works for his skin. In my professional opinion, I believe that products with the longest duration on the skin deserve the most customization for each face. That being said, Sam is diligent about using a serum first - a pro move ensuring a strong dose of vitamins travels into the lower layers of the skin therefore, simplifying the skin's needs of a "super performance" moisturizer.
SPF is the #1 key ingredient to graceful aging (outside of genetics). The End.
Sam: Eye cream is a must for me every morning and night in my attempts to age gracefully. I have a couple different creams. A lighter daytime eye cream and a thicker one for night.
Autumn: Sam's lineup of eye creams is a great example of the overzealous product purchasing that I see all the time. Most of my clients are concerned about the eye area and rightfully so as it's a delicate area with fragile skin and very little oil glands. It's most important to keep the area hydrated/moisturized but not too greased up that you occlude the pores and cause little white bumps. So, finding the right balance can be tricky but this is where learning to read the labels will save some time. My least favorite in his cabinet is the Shiseido since the first few ingredients include mineral oil and petroleum both of which can feel rich on the skin but suffocate and actually lead to dehydration. I am also unimpressed with the Nature Republic ingredients list which is extremely long - eyes don't need all that stuff. I recommend he find an eye cream with a little SPF for daytime and keep the Darphin for nighttime. And for folks overly concerned with "crow's feet" you'll have to embrace your expression lines or stop smiling….sorry!
Sam: I honestly don't know exactly what retinol does, but I've started using this under my eyes. I think it will help me as I get older?
Autumn: I've already raved about serums and their ability to deliver concentrated treatment to the skin so serums for the eye area are no different. Sam's choice of retinol is great for use at night since it is a form of vitamin A which increases exfoliation, encouraging collagen and elastin production, but potentially creating sun sensitivity during the day. Also, our skin repairs itself at a much more rapid rate while we sleep making retinol products the perfect sleepover companions for skin rejuvenation.
Sam: Its nice to have options in moisturizer depending on how I feel or the current condition of my face. I like using this lighter moisturizer when I have any breakouts or if I am doing anything really active, so I don't feel like I have an uncomfortable, heavy layer of cream on my face.
Autumn: I judged Sam for having multiple eye products, but I completely understand this third facial moisturizer option for the exact reasons he gives. Sometimes we just need a lighter application of product.
Sam: K-beauty is so prominent now in American skincare, and one major difference between American and Korean men is the use of BB cream. I don't wear it very often. Every so often I will use it as a spot cover up, or on special occassions I will do a thin layer over my entire face to even out skin tone. It oxidizes, blends, and is barely noticable.
Autumn: I think BB creams are a great "non makeup makeup" option for evening skin tone while protecting - they always have some form of SPF. This one uses only mineral based physical sunscreens which have the added benefit of being anti-inflammatory.
Sam: I was hesitant to believe that these little pimple patches worked, but they've proven to be effective in reducing the size and redness of annoying blemishes. Instead of a harsh acne spot medication, I just put one of these little stickers on the blemish overnight. I try to avoid products with benzoyl peroxide because it can stain/discolor my towels.
Autumn: Whoever created pimple corrective stickers is a genius! Usually they are salicylic acid based which really helps to dry up stubborn spots quickly. What I love about the stickers is that they keep the active ingredients in place, not traveling to irritate healthy skin or rubbed off and ineffective. They can also be incognito (if clear) for all day zit zapping.
Sam: About once a week I will use a mask of some sort as a treat for my face. I like sheet masks for hydration and to tighten my pores, cream masks for rebalancing and clarity, and under-eye patches for some extra care.
Autumn: I'm an esthetician so I love masks. I love a variety of masks and when others are willing to treat themselves at home. I believe simply carving the time out of one's week to use a mask is a great way to tap into that self care mode most of us are lacking. I would suggest Sam sticks to weekly usage for the clarifying/detoxifying masks since they can also be drying. Hydrating masks can be used more than once a week especially during peak winter and summer to replenish lost moisture.
Sam: I didn't always growing up, but I've learned it's so important to wear SPF whenever you are going to be in the sun. That includes running around doing errands as well as lying out in the park or at the beach. I definitely want to skin cancer, and am trying to evade fine lines, wrinkles and sun spots. Always get your SPF on!
Autumn: I am very please to find a variety of SPF choices in Sam's cabinet. SPF usage is going to be the #1 most important effort in graceful aging. My biggest concern is that folks understand the difference between physical and chemical sunscreens in order to best choose what fits their needs/skin type. Chemical sunscreens, like the ethylhexyl methoxycinnamate found in the Nature Republic SPF, can often irritate sensitive skin, has been shown to be a hormone disruptor in lab tests and is also harmful to coral reefs. When choosing an SPF for the beach please look for a label that says "biodegradable" or "reef safe." Hawaii recently passed a bill banning chemical sunscreens that destroy reefs. Educate yourself, choose wisely and wear sunscreen!
Autumn Henry was born in Missouri, raised a Navy Brat and now calls Brooklyn home. Her career in esthetics was born out of a desire to perform humane Brazilian Waxing but quickly graduated into a full fledged career that focuses on holistic skin care and healing of the individual. Autumn is a fierce advocate for "graceful aging" vs "anti-aging" in a culture obsessed with unrealistic beauty standards. Follow her on Instagram @missautumnhenry.
Sam Tanabe is a NYC based performer and writer for Hapa Mag. He has performed on Broadway, Off-Broadway, and regional theatres across the country. His passion for the arts has led him to fight for diversity and representation on stage. Follow him on social media @Tanablems.